As many of my long time readers know, each season I like to do a mini series surrounding
Pantone.com
's bi-annual color report. This time around I wanted to try and mix things up a bit, so instead of doing 10 different looks for each of the individual colors, I wanted to do 5 unique looks that show you how to mix and match these chic shades together in beautiful combination. I also wanted to incorporate the perspective of a fashionista for how you can incorporate these colors into your wardrobe, so I collaborated with the amazingly stylish & talented Adriana of
www.fake-leather.com
. She came up with some truly incredible outfits that I'm sure you're going to love. So, are you ready to see the first color combo .... ?
This fall you can certainly expect to see a return to earth tone color trends in both fashion & makeup alike. This back to basics beauty trend is reflected in a color palette of dark browns and leafy greens which go beautifully together just as mother nature intended. Model Natasha Poly was seen sporting this exact color combination on her eyes while walking the red carpet at Cannes this past summer.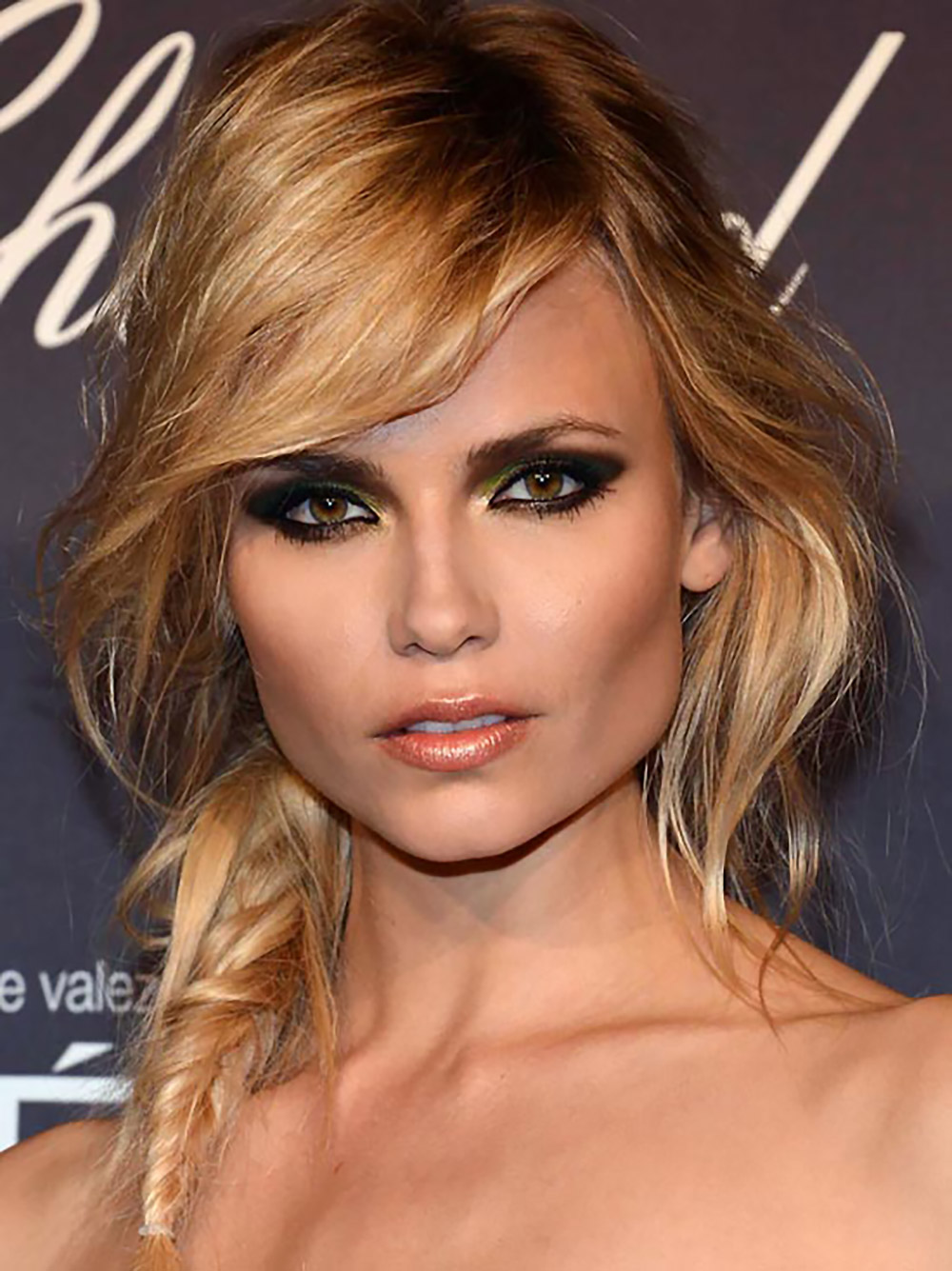 Natasha Poly's Trendy Chartreuse & Brown Eye Makeup; Cannes 2012
I wanted to recreate this fabulous look to show how you can keep your eye makeup relatively simple while still achieving stunning impact. By extending the natural shape of the eye beyond the crease and right up to the end of the brow this look instantly lengthens eyes for a smokey cat-eye effect.
By keeping the entire lid washed in dark brown and black, we create a piercing focal point by sweeping a generous amount of chartreuse green shadow all over the inner corner. While chartreuse can be an intimidating color to work with, it's subdued by the browns of our French Roast base so it isn't as overwhelming. Just find a chartreuse shade that works for you and you're good to go. It's never been so easy being green!
I've also created a tutorial for this look!
For the second half of my post, I would like to introduce Adriana Gastelum of
www.fake-leather.com
as my fall fashion correspondant. Adriana is a young fashion blogger whose style & blog I really admire and enjoy. She has an amazing eye for simple, chic outfits that are always fashion forward so I couldn't think of anyone better to collaborate with. She's put together five fabulous outfits that use the same color schemes as my makeup looks so you can see how to make these colors work for your wardrobe. Here's her Chartreuse & French Roast look:
This outfit is the perfect mix of exciting colors, fun patterns & rich textures; while at the same time looking understated, classic and elegant. The continuity of color from the tank to the shoes ties the look together while the neutral palette of blacks and browns tones down the chartreuse and prevents it from becoming distracting or overwhelming. You can pick up similar pieces like Adriana's from
Romwe.com
. Be sure to check out her blog often because she's always hosting Romwe.com giveaways and sharing generous sale codes!
Be sure to check out Adriana's other outfits by clicking these links:
Thanks for checking out my post, I hope you enjoyed it. Stay tuned for more fall fashion inspired posts!