Well, I'm breaking my blogging hiatus briefly to bring you a long overdue post. A while ago
100% Pure Cosmetics
contacted me and asked if I would be interested in receiving and reviewing their products. After looking into what the company had to offer I was more than a little excited to try out a selection of their vegan and cruelty free products
"100% Pure are the first and only cosmetics colored from antioxidant rich fruit and vegetable pigments. While other color cosmetics are colored with either synthetic dyes or minerals, only 100% Pure Cosmetics are colored with fruit and vegetable pigments (patents pending)! All the antioxidants and vitamins are in the pigments, so you will be applying all the healthy nutrients of the fruits directly on your skin."

- Pure Cosmetics Website
I am a vegetarian and an animal lover so I fully support the mission statement of this company. I put together a look that reflected their pure, all-natural aesthetic using the products they sent me and not much else (I filled in my brows & lahes, then put on foundation, everything else is from Pure Cosmetics). Here is my Pure Cosmetics full face look. This is a before/after comparison for you to judge the effect of the products.
I asked to sample their lipstick, blush, and eyeshadow products and here is what I received:
Satin Eyeshadow in "Tahiti": Pure Cosmetics markets this as a 'shimmery champagne' color that makes your eyes feel smooth and moisturized while giving them a pretty sparkly sheen. The color is definitely as described but it's a bit too spot on to my natural skin color to show up in pictures other than a faint shimmer. It was a bit hard to work with as the product was quite dense and didn't feel 'satiny' as the name suggests. Nor did my eyes feel silky smooth or moisturized - no more or less than they do with any other shadow. It was sparkly though so I'll give them points there but overall I wasn't too excited about this product. I'll probably use it as a cheek highlight from now on. It's too hard to work with on my eyes. RATING: 3/5
Fruit Pigmented Blush in "Chiffon":
Pure Cosmetics says this blush will make your cheeks sparkle and shine. I disagree with that, but I was not at all disappointed by this product. This fruit pigmented blush is really easy to build and Chiffon is the perfect natural shade of blush. It's a light nude pink color that isn't garish or obvious when it goes on your skin. This color is perfection for fair-skinned, cool-toned girls like me but they have a wide range of products for every skin tone. As an added bonus (that I wasn't at all expecting), Pure Cosmetics sent me a cruelty free blush brush for applying this product and let me tell you. It has got to be the softest brush I've ever used. It's amazing. I haven't used any of my old blush brushes since getting it. You can find the brush
HERE
. I highly recommend checking it out.
RATING: 4.5/5
Fruit Pigmented Lip-Glaze in "Rose Petal":
This was far and away my favorite of the three products. The shade I received is a warm rosy nude that perfectly compliments my natural coloring. This stuff is a one-coat, perfect lip color that feels great, looks great and is great for your lips. Depending on how much you're doing with your mouth (no judgement! haha) this stuff lasts about 30-60 minutes without reapplication. However, even if you don't reapply, the fruit pigments in this lip glaze are strong enough to give your lips a slight stain, making your lip color rich and kissable long after the product has worn away. And the best part - no lead (like many leading lip colors)! I like to think of this stuff as 'your lips, but better'.
RATING: 5/5

Here's an up-close shot of my beautiful lip-glazed lips
My overall reaction to this company is a resoundingly positive one. I fully support their mission to provide high-quality, safe, healthy, ethical products at affordable prices. They were incredibly generous, sending me full sized products. The packaging is pretty and the shipping was fast. The only negatives were things that I had to expect when you're giving up all those chemical additives we're used to - so I don't know if they can REALLY be called negatives. I think you should check this company out and see what they're all about. At the very least, please educate yourself on all-natural products.
On the topic of all-natural products, if you'd like to learn more about healthy beauty alternatives and some of the scary secrets of the cosmetics industry, I highly HIGHLY recommend this book: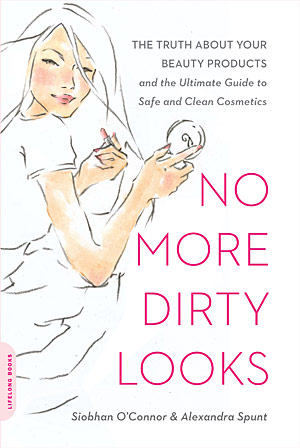 Disclaimer: Products in this post were sent for review. I am committed to making honest evaluations of all products and sharing that information with you. I will never post misleading information about my product experiences.