Hi everyone. Today I'm doing something I haven't had the guts to do ever since starting this blog, but we'll get to that in a second. First off, Ti, one of the co-founders of MakeupBee.com gave me the exciting news last week that I've been selected to represent the site as one of the Queens of Makeupbee for the month of August! I was of course incredibly flattered, but when she told me that part of my 'coronation' would include getting products to review I was more than a little excited. In fact, to put it accurately I was like AWWW YEAHHHHHH FREE SHIT IN THE MAIIIILLLLLL!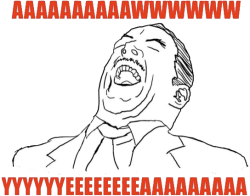 I received my package yesterday and in it was: Mascara Lash Plumper by Sephora, Urban Decay's Afterglow Cheek Tint, and an Aloe face mask. KaCHING! Your total today comes to AWESOME!!! So, I'm going to review these products at the end of the post but I figure pictures speak louder than words so here's me with NO makeup AT ALL followed by me wearing the products sent to me for review. Be nice.
You guys are pretty smart, I'm sure you can figure out which one is the Before and which one is the After without labels. Alright, now that the shock and awe has settled in, let's get on with the reviews...
SEPHORA LASH PLUMPER MASCARA ($16.00) : Sephora says ... "Fatten your flutter with this lash-plumping formula. The larger brush, with slightly tapered edges, reaches from root to tip, for truly bat-worthy volume and glamour."
MEREDITH'S REVIEW : Well, does this product do what the name suggests? Does it plump? Does it fatten your flutter? Hmm, let's look at our before and after. Uh .... YUP! I went from eyelash alopecia (not actually, I just have super light, thin eyelashes that don't show up in pictures) to an eyelash explosion in just two coats. Also, to be as honest as possible to the abilities of the product I did NOT prime or curl my lashes before applying. This stuff is like steroids for your eyelashes. I put on a total of three coats and I didn't experience any clumping or flaking which was fantastic. Honestly, I just bought some super cheap Rimmel mascara and it's going in the trash to make way for this stuff.

SCORE : 9.5/10. I'm poor as fuck so this is a bit above my price point for mascara but if you have a big budget I'd highly recommend this product.

URBAN DECAY AFTERGLOW GLINE-ON CHEEK TINT IN 'CRUSH' ($24.00): Sephora says ... "A sheer, buildable cheek tint that glides on effortlessly and feels truly weightless. This cheek tint can be applied on top of foundation or bare skin without that powdery, cakey effect that can result from use of powder blush."
MEREDITH'S REVIEW: As someone who always wears a finishing powder over my foundation, this isn't the most practical product for me but if you wanted to opt for a natural, dewy look sans powder (and not lose out on any pigment) this is a fantastic product. As you can see from the picture, this shade is quite pink but it is buildable so you do have control over color saturation. All in all a good quality product, just not something that fits well into my powder based makeup regime.

SCORE: 8.5/10 - Does what it says, highly pigmented, easy to apply (without powder) isn't sticky after drying but it did stain my hands a bit and I prefer powder blushes if I'm being totally honest.

I haven't used my aloe masks yet, I'm saving them for tonight after I take my makeup off but I'm definitely excited to use them so I'll let you guys know how they are. I want to say thanks again to Ti & Makeupbee for sending me these lovely products to share with you guys and look for my coronation interview to be coming in the next month.